The 2022 AWS Community Day Midwest Event is taking place at Mitchell Hall, Columbus State Community College downtown campus. Parking is free, we recommend parking in Lot 11-S which resides behind Mitchell Hall.
Mitchell Hall, 250 Cleveland Ave, Columbus, OH 43215 (Google map)
---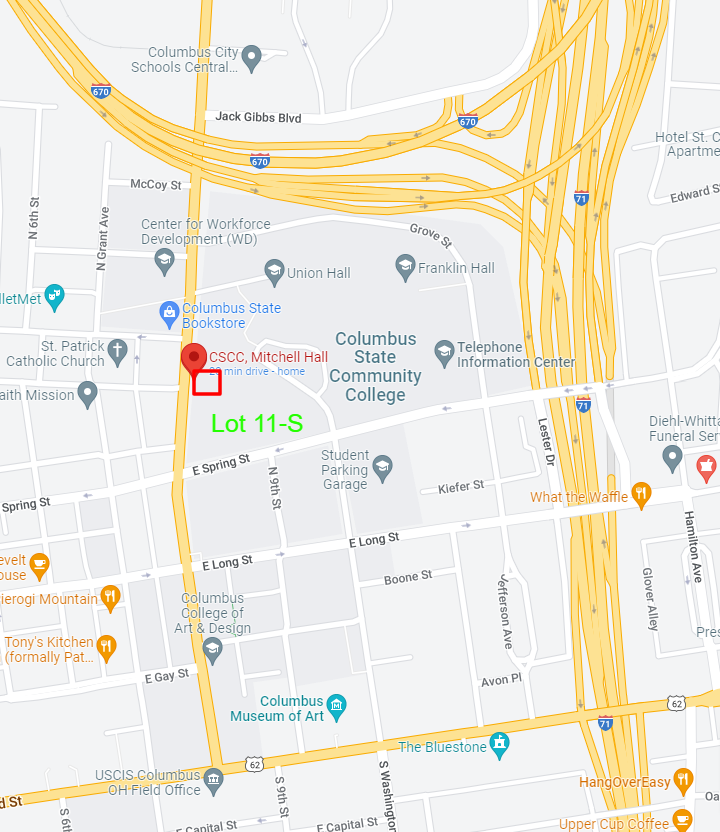 Directions
From Cleveland (coming I-71 south to downtown Columbus): Take I-71 South to exit 109B, E Spring Street. At the stoplight, turn right onto E Spring St. The first stop light you come to on Spring Street is at Mt Vernon Avenue. Proceed straight, then at the first lot entrance on your right turn right to enter Lot 11-S.
From Cincinnati / Dayton / Indianapolis / Pittsburgh (coming from I-70 east/west and I-71 north to downtown Columbus): Take I-71 North to exit 108B, US-40 / Broad Street. At the stoplight, turn left. Proceed 0.2 miles then turn right onto N. Washington Avenue. Proceed 0.3 miles, then continue onto Mt. Vernon Avenue. The first entrance on the left turn left to enter Lot 11-S.
Conference Day Map
The conference will mostly take place on the 2nd floor of Mitchell Hall. Registration will be on the first floor by the steps. You can easily register and pickup your badge from entering the main entrance facing Cleveland Avenue or rear entrance facing Lot 11-S.
2nd Floor Map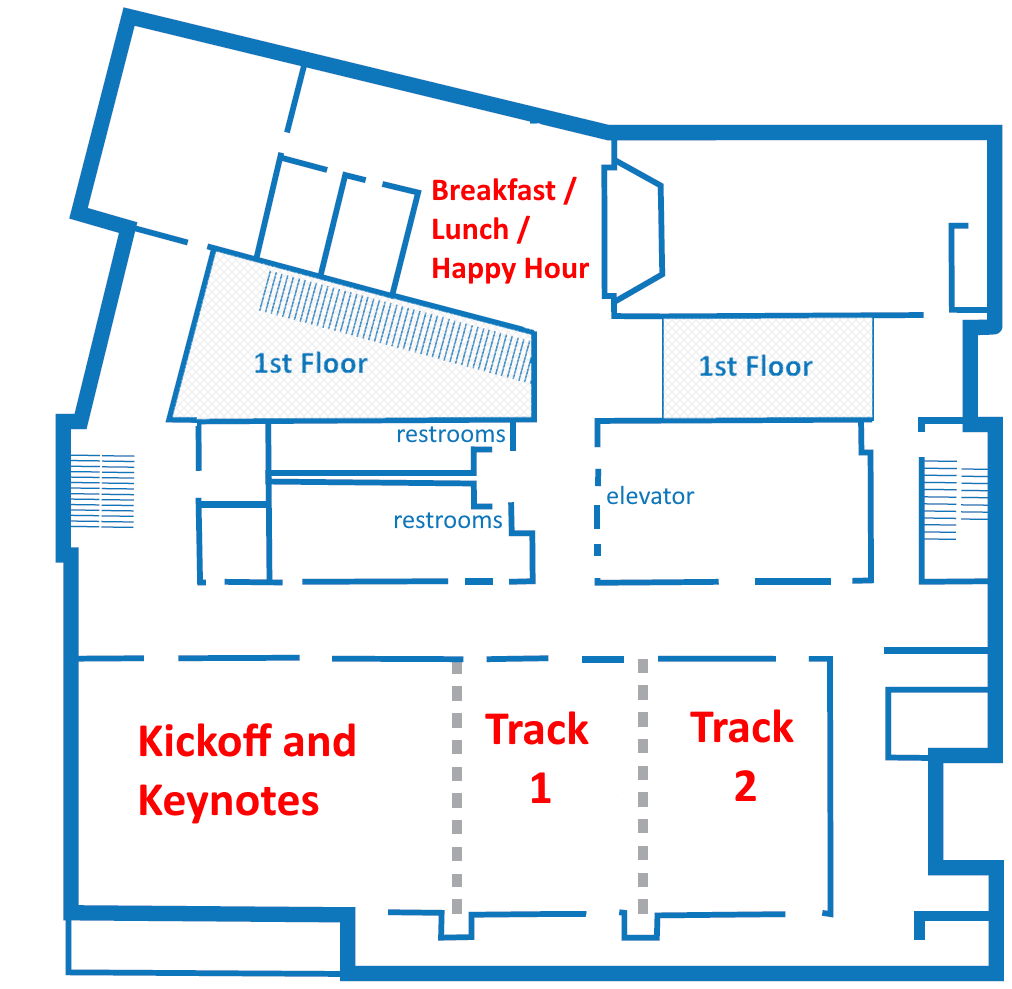 1st Floor Map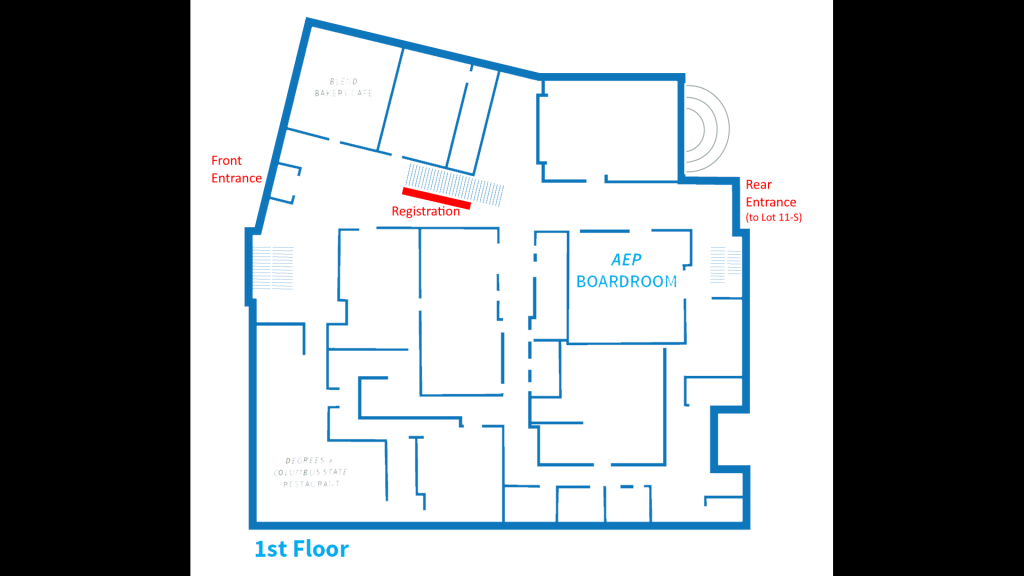 Hotels
We recommend staying at one of the 5 hotels listed which is approximately 1/2 mile west of Columbus State campus.
Hyatt Regency, 350 N High St, Columbus, OH 43215
Sonesta Columbus Downtown, 33 E Nationwide Blvd, Columbus, OH 43215
Canopy By Hilton, 77 E Nationwide Blvd, Columbus, OH 43215
Drury Inn & Suites, 88 E Nationwide Blvd, Columbus, OH 43215
Red Roof PLUS+,111 E Nationwide Blvd, Columbus, OH 43215

All of these hotels are along Nationwide Blvd / Naghten St which is directly west of Mitchell Hall.
Experience Columbus!
There is lots to do in Columbus! Check out experiencecolumbus.com for lots if stuff to do this June 16th weekend.
Food in Columbus
In CBus, we love our food. Luckily you cannot go wrong with yelp or trip advisor recommendations. In case you want to reference a hand picked list, below is a quick snapshot of the typical places where you're guaranteed to walk away with a Columbus experience.
Desserts and bakeries
Jeni's Ice Cream
Graeters Ice Cream (Actually a Cincinnati chain but really good)
Buckeye Donuts
HoneyDip Donuts
Pistacia Vera
La Chatelaine French Bakery and Bistro
Breakfast
La Chatelaine French Bakery and Bistro
HoneyDip Donuts
HangOverEasy
Northstar Cafe
Local favorites:
Roosters (multiple locations throughout Columbus)
Woody's
Bibibop
Dirty Frank's
Hot Chicken Takeover
Adriatico's New York Style Pizza
Blow your mind dining:
Watershed Kitchen & Bar / Watershed Distillery
The Guild House
Schmidt's Sausage Haus und Restaurant
Cap City Fine Diner and Bar
The Thurman Cafe
Wolf's Ridge Brewing
Mitchell's Ocean Club
The Refectory Restaurant & Bistro
Mozart's
The Pearl
Something unique:
Jack & Benny's Barnstormer Diner – This is a restaurant located at the OSU airport, it is accessible to the public. It is a unique experience, you can watch planes take off and land from the old watch tower while you are visiting the airport.
Rodizio Grill Brazilian Steakhouse
Bossy Grrls Pin Up Joint
Trip Advisor: https://www.tripadvisor.com/Restaurants-g50226-Columbus_Ohio.html
Shopping in Columbus
Though we are the headquarters of many retailers, the bulk of the shopping areas are found around the far corners of town. Except for niche stores like Microcenter, most of the common stores can be found close to every major Interstate intersections around the outer I-270 Interstate loop. If you need something major such as an Apple store, your only options are "Polaris" and "Easton Town Center", both are found on the north and North East side of town.
Columbus FAQ
Question: What do folks who live in Columbus call themselves? e.g. Clevelanders in Cleveland or Bostonians in Boston.
Answer: We're working on that. Columbus doesn't have a good name for its residents. Columbusites can be found in print, but we can all attest that no one has actually read that word out loud in any daily conversation context. Typically in conversation we will refer to ourselves as "buckeyes". When we're out of town calling ourselves buckeyes is a tip of the hat to Ohio State as well as to the entire state of Ohio. Unfortunately "Buckeyes" can also be applied to anyone who lives in Ohio, though Ohio residents in general are more often referred to as Ohioians.
Question: I keep hearing the phrase C-bus?
Answer: It's the town's hashtag gone viral, and no it's not a bus route (or it was at one time actually).
More to learn about Columbus: https://www.movoto.com/guide/columbus-oh/things-people-from-columbus-have-to-explain/